You want it
SOLD!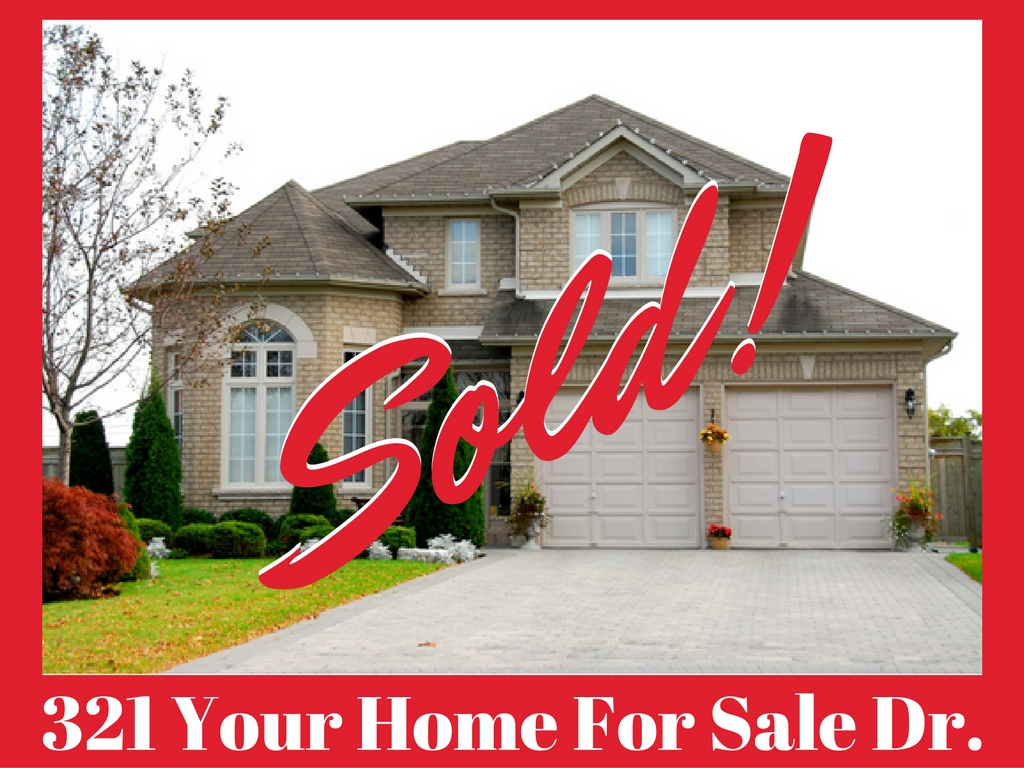 Let's be honest – you're online trying to find the least painful way to
sell your home quickly and get the most you can
out of your big investment. That's our goal too, so let's chat about how it's done.
1. Prepare.
Even before we put your home on the market we use strategy. The goal is to make a giant splash when we go live on the MLS and online so we'll walk you through the setup details like;
*
pricing
your home properly – so it shows more value than the rest. We understand the market and we'll help you interpret it.
*
staging
it to create desirability – what you don't know
can
hurt the level of offers that come in. A few key changes help buyers perceive that your home feels larger and is worth more.
*
professional photos
of your home with PhotoShop magic grabs the attention of buyers on their phones – you have 1/10th of a second to impress them!
*paperwork explained
– we give you the simple English version of all the contracts and documents so you can feel good about what you're signing and what it means, even if you don't "speak real estate".
*
hit the market
the right day of the week – every day counts, literally, so we don't just put homes on the MLS any random day. It matters when, and we'll give you the edge.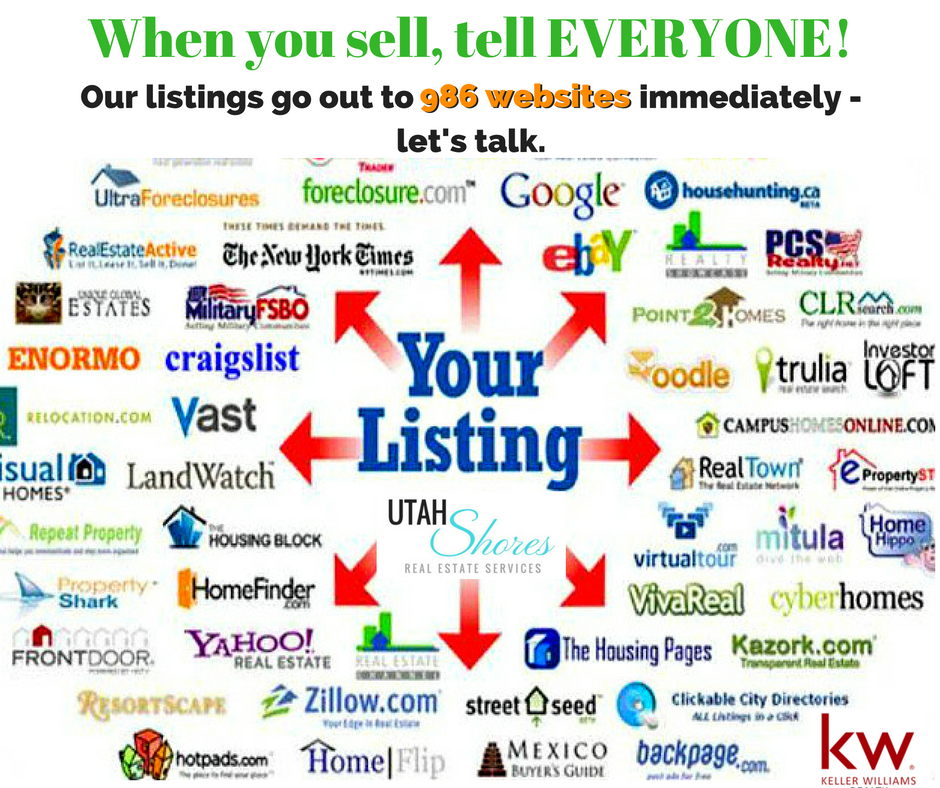 2. Marketing you home.
Your home looks great now, but who's going to see it? Only those that know about it.
*Most buyers come from the internet. You need to be everywhere!
At Utah Shores we syndicate our listings within minutes to 986+ websites like Zillow, Trulia, all the major home search sites, hundreds of brokerage sites, Facebook, blogs and even individual agent sites. We provide you with
shareable graphics and links
so you can let your circle of friends know too. We do DAILY NEW KLS ADS that keep your home at the top of the heap.
This will be the best possible presence you can have online!
*Real estate agents sell houses, so you want to be in front of them.
We know tricks that make agents want to show your house more than other homes. We meet weekly with our brokerage of over 200 of the most highly trained agents in the area, going through each listing and lining up buyers and sellers.
*High tech short cuts
like a "text for info" sign and digital Supra lockbox tell us the details of anyone that wants info on your home. This also sends a subtle message that you (and your home) are updated. It's simple for anyone driving by to text and digital access for showings means everyone who tours your home is tracked for security, feedback and follow up – and we call every single one.
*Video gets views
and it's just one of the ways we get your house in front of more eyes. We'll put together a video of your home that helps people connect to your property. Our productions focus on evoking emotion in buyers so they want to know more. Translation: more showings quickly, more sharing and less time on the market.
*Better buyers
come through filtering. When you clean up and leave the house to show it, you want people serious about buying to come through. We work with
our preferred lender
to quickly screen those who want to tour your house, so whether they are with an agent or just called from the sign, they are qualified to make a move! And you and your family can live the most normal life possible while your house is being sold.
*Open houses
can generate extra buzz around your house. Should we decide an open house is the best way for you to market, we'll create a schedule to promote your property to prospective buyers and buyer agents. We hold other area open houses so we may find a buyer for you, and we use peak times, bold signage and online ads to catch attention and draw traffic.
*Keller Williams
is the fastest growing brokerage in the world right now and already the largest in Utah County. The name on your listing alone ads credibility to your home, and gives a comfort level to buyers that things will be handled professionally. It's the new status symbol in real estate. KW has a private MLS (KWLS) that will additionally host and market your home.

3. Details through closing
are what will finally get you to your goal of a completed transaction. We make your deal as bulletproof as possible.
*You'll always be kept in the loop
. You'll know the status of our team's marketing efforts weekly and be updated on the steps leading to a successful closing. You'll always know what's going on behind the scenes while your property is listed and under contract.
*We advise you on incoming offers
so you can get an insider's look on how good the deal really is.
We'll negotiate for you like a bulldog
and help you secure a contract that meets your desired time frames and financial outcome. We specialize in this and
we love
helping you net the very most possible!
*We anticipate
and capably remove many potential challenges before they have the opportunity to grow. We've seen a lot and recognize the warning signs. The complexities of your real estate transaction will be well-handled.
We've got your back!We guarantee your satisfaction.
We won't consider our work with you a success until you
join the ranks of our RAVING FANS!
We insist on exceeding your expectations and our easy exit guarantee allows you to end our relationship if you ever feel we don't do what we say.
It can feel like the details are endless when you're selling a property. We streamline the process for you, ensuring everything is completed as quickly and efficiently as possible.
But wait, there's more…
AS YOUR REAL ESTATE TEAM WE DO MUCH MORE THAN PLACE A SIGN AND PUBLISH TO MLS.
*We prospect daily to actively find a buyer for you.
*We knock doors in nearby areas seeking renters that are ready to buy or relocate, or those who may know someone coming into the area.
*We use our connections (Camp Williams, tech companies, community, business, etc) to market for you.
*We have a full time transaction manager to keep transaction flow uninterrupted and details covered.
*We have specialized training in presenting, negotiating and relationship building, and members of our team even teach these courses at our brokerage.
*We have an on-call lender that is able to pre-qualify buyers in minutes.
*We distribute "just listed" notices to neighbors, encouraging them to tell family and friends about your home for sale.
*We provide shareable social media posts for you so you can reach and even wider local audience through your own contacts if you desire.
*We follow up on every lead.
*We target active buyers and investors in our Utah Shores database seeking for homes in your price range and area.
*We will provide you with updates weekly on the progress of your home, or as often you desire.
*We have lived decades in Utah County with many connections here and in Salt Lake County as well.
*WE ANSWER OUR PHONES, right away and within 15 minutes during business hours.
*We connect you with
a free home warranty
for the duration your home is listed so if anything breaks, you don't have to fix it out of pocket.
*We offer buyers a free pest control service as a welcome gift.
*We use a text rider sign with the listing sign so potential buyers can get immediate information and we are able to follow up with their contact info.
*We use Supra Bluetooth technology for key access so anyone using the keybox is tracked for your security and so we can follow up for feedback and to encourage an offer.
*We create comment cards and fliers to place inside your property so it is easily remembered.
*We may advertise your home in a neighborhood newsletter, as well as direct-mail campaigns, email campaigns, blog and social media, depending on their availability and appropriateness.
*We'll use any and/or all of the above methods that best support the quick, highest net sale of your home.
Summary:
This is all about you. Our focus is your complete satisfaction.
We start by talking about your needs, answering questions, and learning what we need to know to promote your property and attract the most buyers. We then market the heck out of it online, in person and in every method available. We negotiate you a great offer and smooth the way to the closing table. We only consider our transaction together a success when you want to shout to everyone you know what a great experience you had working with Utah Shores!
Click the button below for a complimentary, personalized home analysis.
Let's's see how we can work together and make selling your home a great experience!

I look forward to finding just the right buyers for your beautiful home!
Jenn Gibbs, owner of Utah Shores real estate team