It's that pumpkin pie time of year again – the best way to eat your squash! For years I've been a loyal Costco pumpkin pie eater – watching them fly out of the warehouse by the pallet this time of year – but I was given a Sam's Club pumpkin pie and thought it might be fun to compare the two and see if it was time for an upgrade.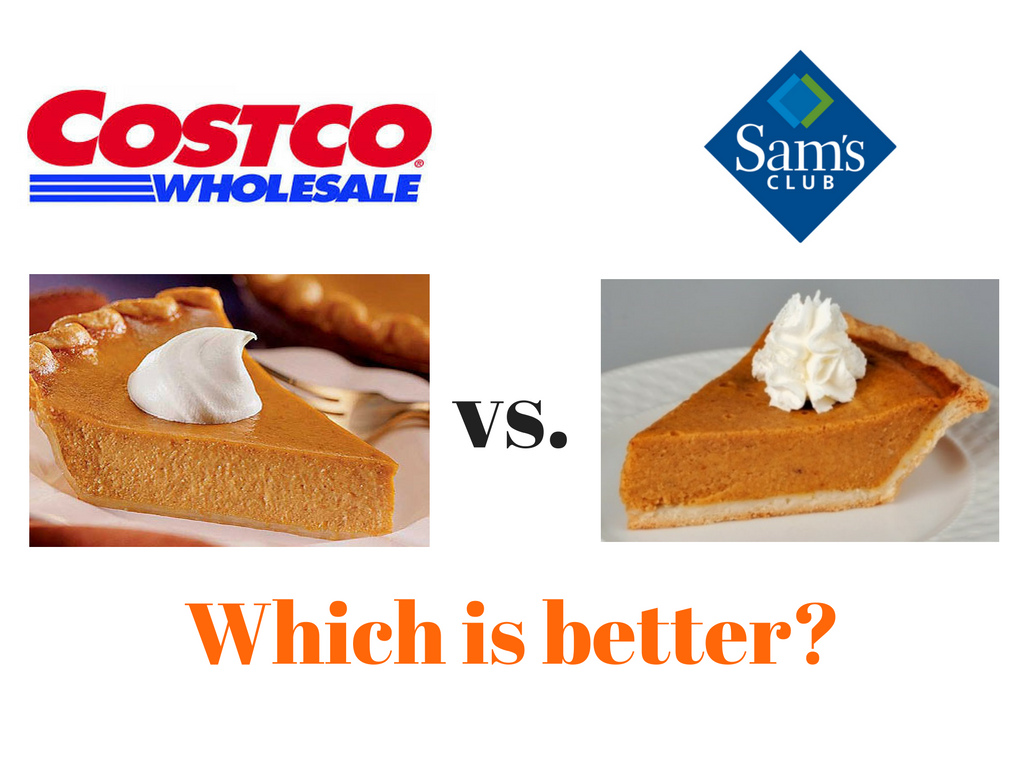 Both pies will run you about $6. For packaging the Sam's Club pie does win. It comes in a cardboard, bakery style box with a see-through top. Very attractive and kind of has the feel of a gift.
Costco packaging is all about efficiency. Their quest to stack as many pies as possibly without crushing them while still saving 1.3 cents per pie is evident in their utility style white, plastic, pie-protector ring covered in shrink wrap. The do get points for it's strength – these heavy pies can stack 4-5 deep without being ruined (something you'll need to know if YOU are the one buying a pallet of them).
I really did try to remain unbiased for the taste test. My husband Eric and I sat down and evaluated several aspects of the pie. Obviously we rated packaging first. Then the rest…
APPEARANCE-
Costco: Bright, pumpkin-orange filling, well blended and smooth looking, holds together well, flaky looking crust with a slight decorative edge.
Sam's Club: Darker brownish orange filling (maybe more dark colored spices?), multiple tiny speckles of clumped spices (either it didn't mix well on that batch, or it's meant for texture), held together well, but almost too well. It was so thick and heavy, or else not supported enough by the crust, that the outside edge of about an inch fell back and separated, making the piece I carefully tried to cut for the picture look like it was falling apart. You'll notice it's angled and leaning toward the other piece so the crack is less obvious. Crust was slightly lighter in color and had a firmer, more pressed and less flaky look to it – a little less impressive – with a plainer edge.
(Costco slice on the left, Sam's Club slice on the right)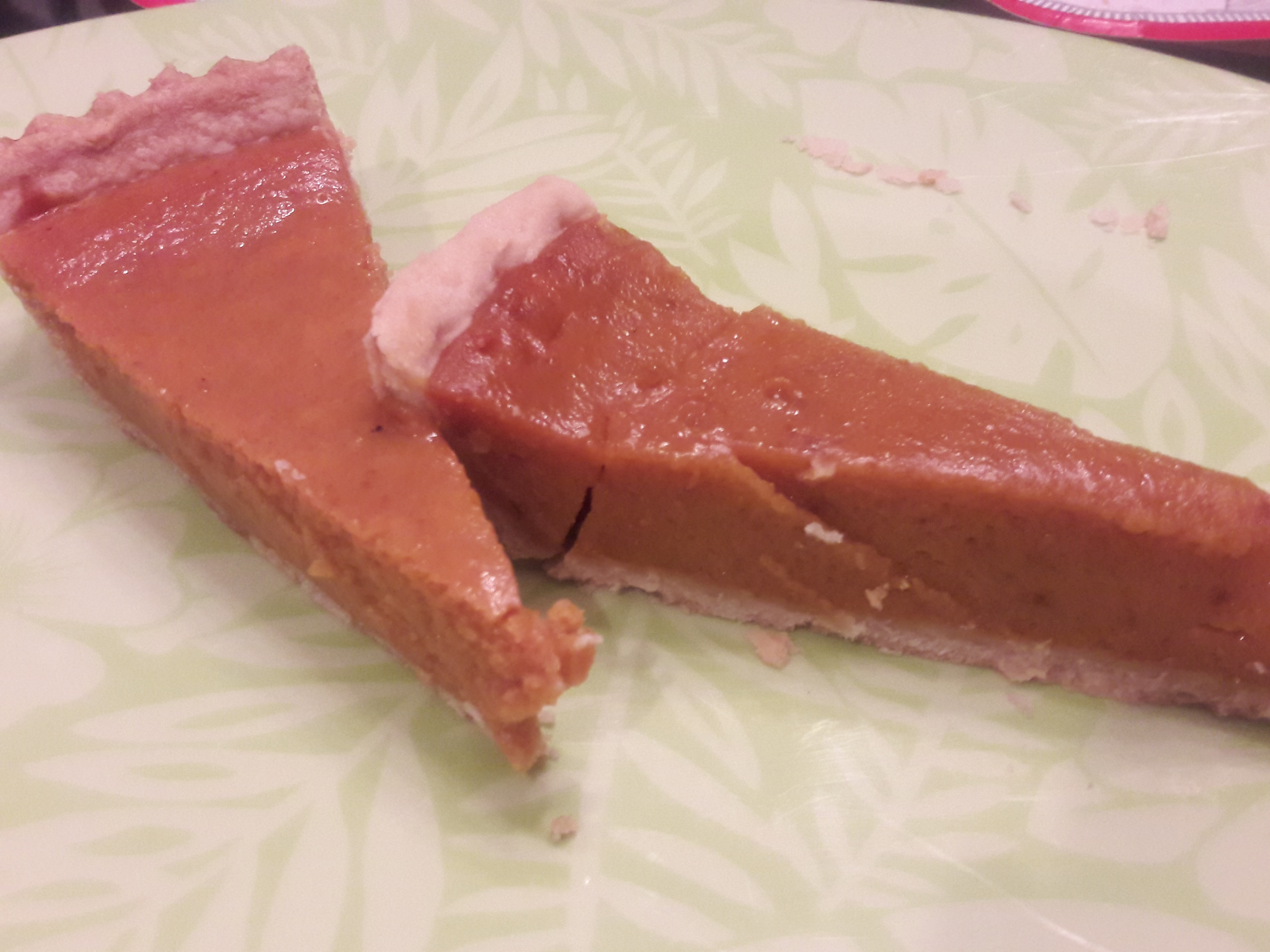 For the taste test part I went back and forth, bite by tireless bite, concentrating on the contrasts. My work exhausts me…
FILLING TASTE AND TEXTURE-
Costco: Sweet, creamy pumpkin flavor, gentle hint of ginger, very subtle spices (you didn't notice cinnamon by itself), it had a melt in your mouth kind of feel. Delicious. Made you want to take another bite.
Sam's Club: Initial taste is pumpkin, then sweetness (less sweet than the other pie), I wouldn't say it felt creamy, but thicker; almost more like it was thickened with a little gelatin. (Apologies – I didn't think to save the ingredients from the labels). It had a sort of heavier feel in my mouth. It was tasty in the moment, but when I'd alternate back to the Costco bite I was always a little happier. However, if you were looking for something that tasted more like pumpkin and less like pie filling this would be your winner.
CRUST TASTE AND TEXTURE-
Costco: The more attractive looking crust does give it the edge for taste. You can see the layers in it and there is just something about a slight crunch as you bite through the pretty, pastry part of your dessert. One more thing to be thankful for! Very subtle saltiness – just the right amount for that sweet and salty ideal combo. Combines well with the creaminess of the filling.
Sam's Club: Crust resembles more of a bar cookie crust than a pie crust in my mind. We'll call it simple, since simple is in right now. It works but doesn't impress. It does seem to go well with the filling – both are hearty. I kept looking for virtues, but in the end…

I kept going back and forth until I felt I had gathered enough notes to be fair to both. Then eventually decided I'd rather just finish the Costco slice and and opt out of the calories of the Sam's Club pie. Sorry Sam's. No upgrading this time around. We'll stick with our tradition, but it's nice to know the differences. If you were stranded at a Thanksgiving table with only a Sam's Club pie, I think you'd still be ok 😉 Much love to all this thanksgiving season-